incombustible mgo decorative ceiling panels with wood grain
| | |
| --- | --- |
| Tipo de Pago: | L/C,T/T |
| Terms of Trade: | FOB,CFR,CIF,EXW |
| Cantidad de pedido mínima: | 900 Piece/Pieces |
| Plazo de entrega: | 21 días |

| | |
| --- | --- |
| Paquete: | 1.Strong plywood pallet 2.Strapped with PET rope 3.Protect corner & edges 4.PE film covered on the 6 surfaces |
| productividad: | 150,000pcs per month |
| Marca: | Support OEM |
| transporte: | Ocean,Land |
| Lugar de origen: | China |
| Capacidad de suministro: | 150,000pcs per month |
| HS-Code: | 6811899 681182 |
| Hafen: | Qingdao,Tianjin,Shanghai |
Descripción del producto
MgO board is a strong, high quality, fire-proof, mineral-based building material used to replace plywood, fiber cement panels, OSB and gypsum wallboards. It is an extremely versatile product for use with interior and exterior construction. It is mading from bonding certain elements (including magnesium and oxygen) which results in an extremely strong cement-like material. Similar compounds have been used for construction purposes for hundreds of years in such world-famous sites such as the Great Wall of China, Rome's Pantheon, and extensively throughout one of the world's tallest buildings, Taipei 101.

Using MgO Board result in lower construction costs as well as maintenance costs and display superior performance compared to traditional wood,gypsum and cement-based products. Exterior and interior wallboards made with magnesium oxide are not only strong , they also known to be fire-resistant , mold proof ,non-toxic,insulating and hold up well in water.
MgO Board is a fire proof and a thermal insulation building material. It can be used for a number of applications including wall and ceiling linings,exterior cladding,fascia's , soffits , tile backing and flooring underlay.
MgO Board is non-combustible and can achieve fire ratings as high as 4 hours given the correct installation.It can be used for sound studios,schools,public areas,movie theatres,train and bus partitioning,boat partitioning,shopping centers and any area where the fireproof function is necessary.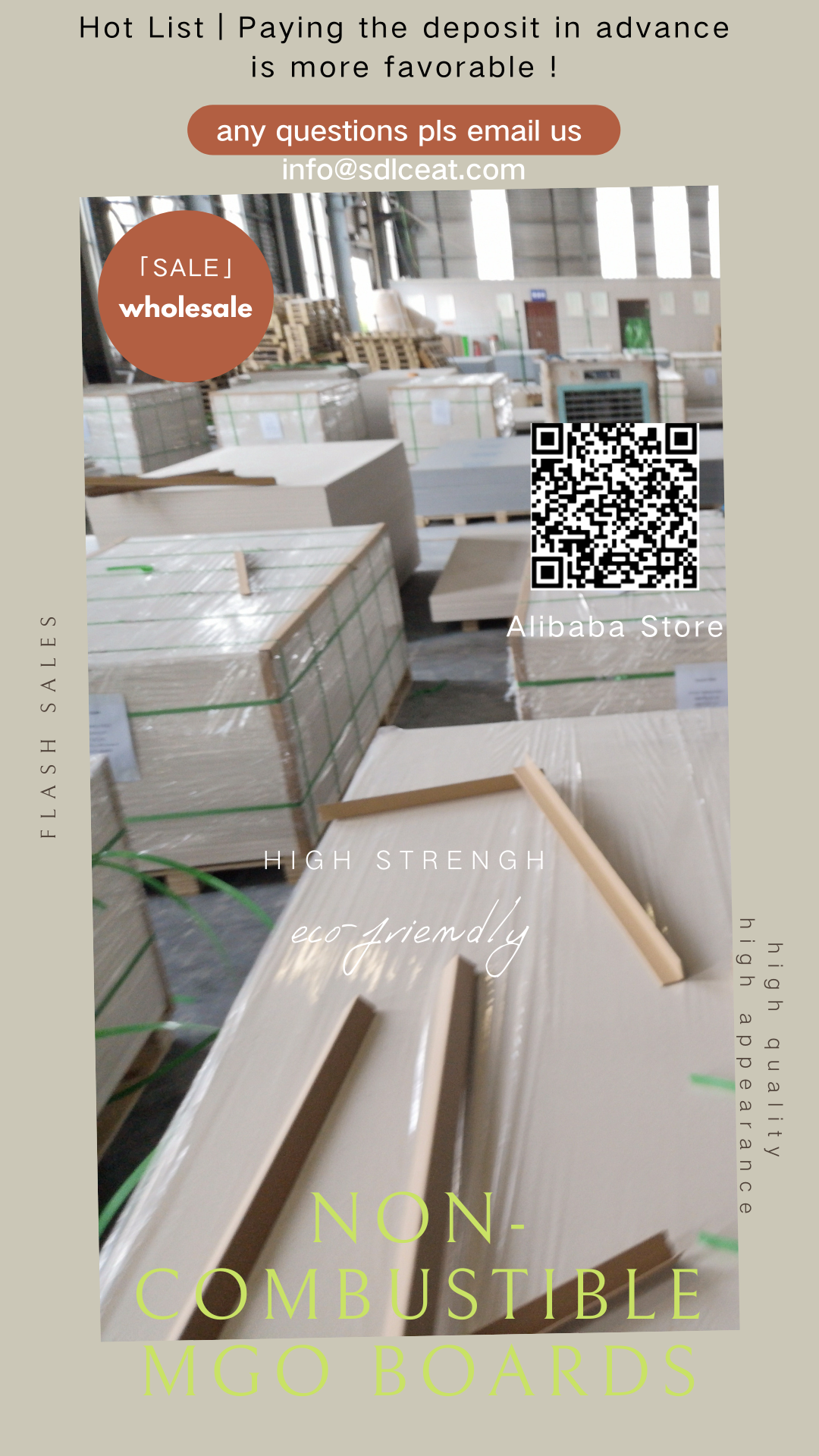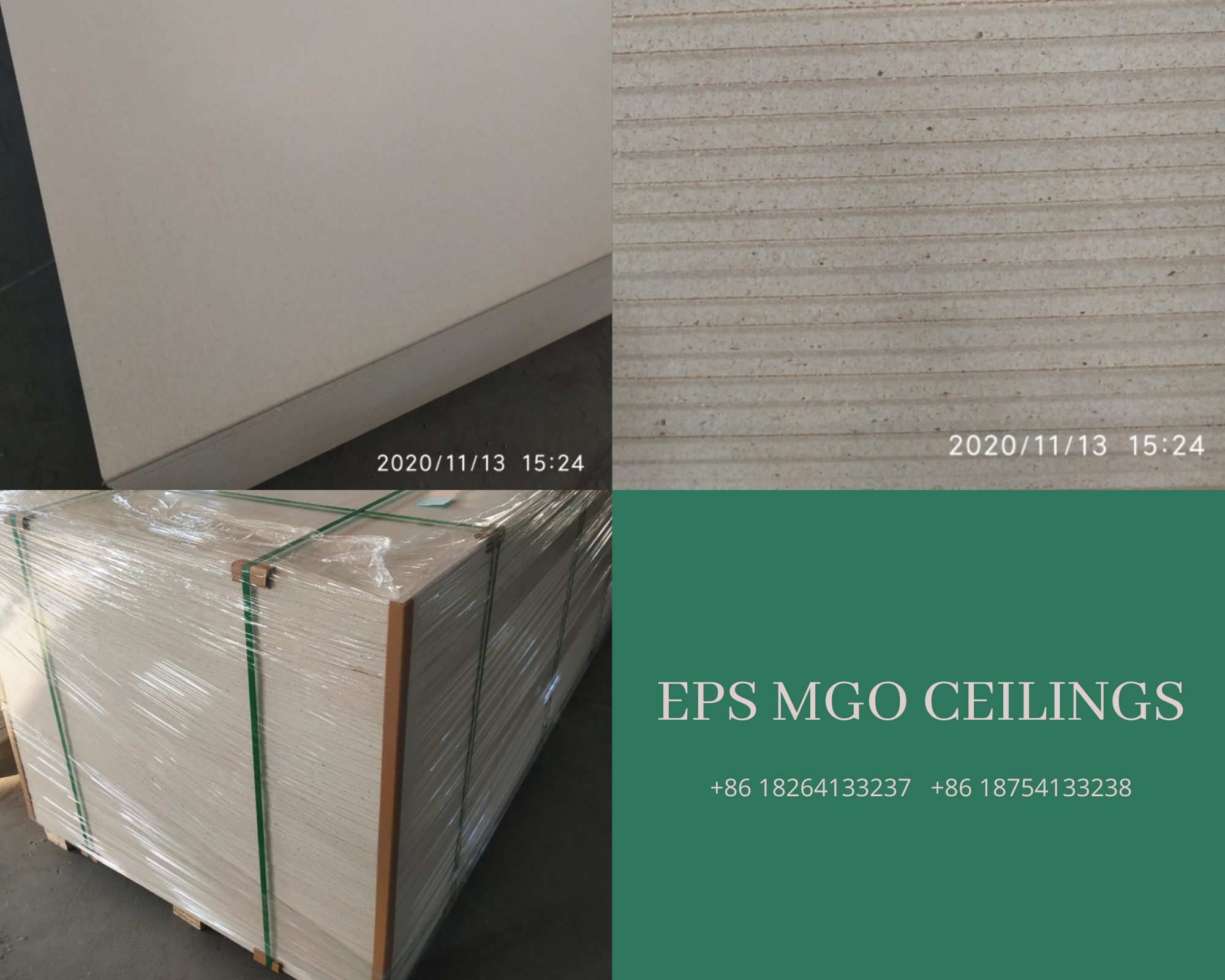 Production process: no industrial "three wastes", no toxic substance discharge.
Finished products: fire resistance, high temperature resistance, no release of toxic substances, fully environmentally friendly products, superior performance.
Product display: Lightweight energy-saving composite wall panels, floors, fireproof decorative panels, exterior wall hanging panels, anti-corrosion insulation tiles, magnesium oxide flat panels, Magnesium Oxysulfate sanded panels, etc.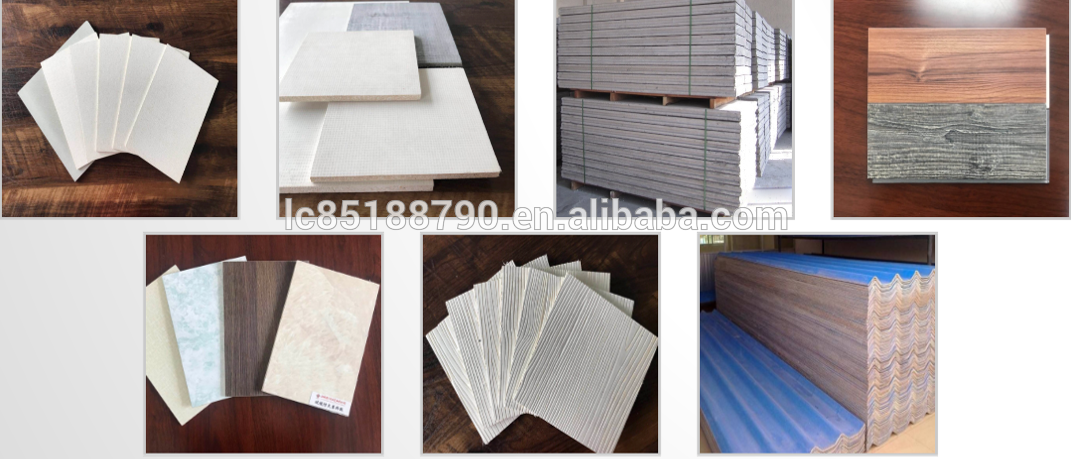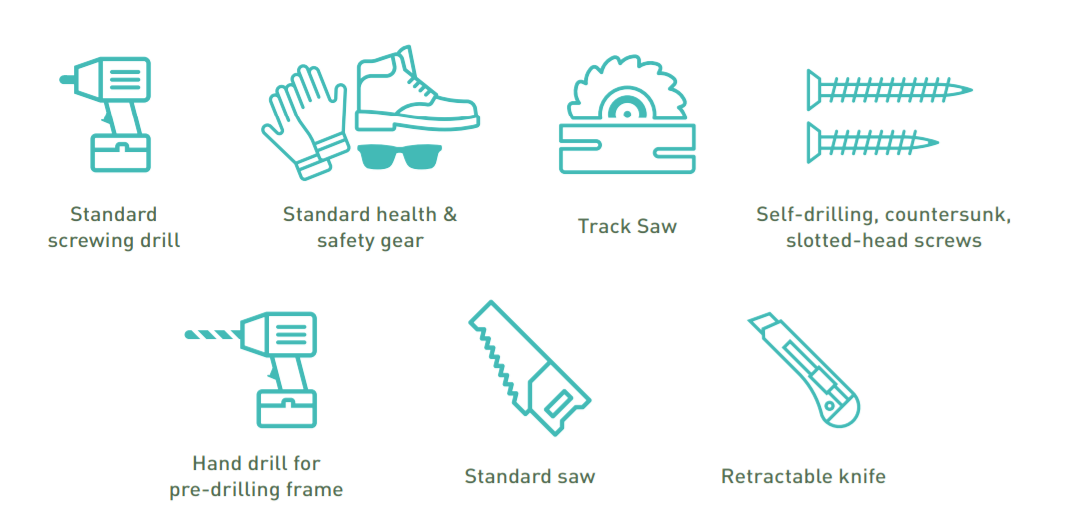 Q1: What are my options for finishing MgO Panels?
A1: Finish MgO with most products such as paint, stucco, synthetic stucco, wallpaper, plaster, stone, tile, brick and much more. The strong adhesion properties of MgO also make it a perfect product for Structural Insulated Panels (SIPS), Exterior Insulated Finish Systems (EIFS) and interior wall systems using fabrics.
To finish MgO Panels after installation, begin with a primer. This is required because MgO panels are alkaline in nature. We recommend using a primer that is suitable for concrete or masonry. There are a few popular brands of paint which react molecularly with the cement in MgO forming a UV highly resistant coating that will last for years. Acrylic stucco topcoats or polymer modified cement base coats can also be used and individually applied to the board. Test the topcoats and paints prior to completing the entire project. To properly test the bonding capability of the topcoat, brush on or spray a small area of the MgO with paint, let the board dry and cure. Then make an X with a sharp razor knife, apply masking tape over the cut and press firmly and rip it off like a band-aid. If the paint stays on the board, this indicates the paint and board have a successful bond.
Q2: What do I use to fill in joints between MgOs?
A2: When installing panels, leave a 3 to 6mm wide gap between the panels. Control the depth of the gap using polyethylene backer rods to the point where the width is greater than the joint depth. Use non shrinking paintable caulk applied with a caulk gun, then smooth off excess caulk using a little water and your finger or a caulk smoothing tool. Add a coat of primer when the caulk is cured. After priming, apply a thin coat of spackle or gypsum mud to remove any joint telegraphing. The outside corners of the boards can be glued, sanded or routed smooth and flush and filled with caulk, plaster or grout. Use glue on the inside corners of the boards or butt joint with a bead of painter's caulk.
The outside corners of the joints can be butted together and then sanded smooth. For a bull nose finish, corners can be routed or mitered. Adding a corner bead of caulk is optional. MgO bonds well to itself, metal, wood and other materials. Apply adhesive to the corner board joints using using ChemLink M1 or a moisture cure urethane adhesive. Review the caulking chart for other tested products.
Q3: How do we stop the MgO joints from micro-cracking?
A3: A few things can cause micro cracking in MgO nesium oxide boards such as structure movement caused by force from wind or earthquake. Or the structure may expand caused by thermo graphic or hydrometric expansion. The frame used under the boards may change as wood will shrink when dried and metal expands when heated. MgO Boards shrink during curing and drying to ambient humidity and will have some movement due to thermal or moisture changes. Micro cracking becomes a negligible issue because most interiors maintain relatively even temperatures.
To address and or prevent micro cracking follow a few precautionary steps. First, before installation, allow the boards to acclimatize in the structure where they will be used. Leave a small space between boards and apply a non-shrinking caulking followed by a primer coat of paint. Apply spackle or plaster to hide any imperfections. Finish by using a paint designed to prevent moisture absorption. Isolate joints from the structure by splicing with strips of scrap MgO Board or metal clips to keep the joints between studs.
Q4: Can you use the same fasteners, mud, and tape that are used with regular drywall?
A4: To fasten MgO panels, use corrosion resistant fasteners. Add extra support by applying a barrier coat of epoxy, ceramic or a similar adhesive. Drywall screws that have a stainless steel or phosphoric coating also work well with MgO panels. For easiest installation, choose screws with self-counter boring heads. Alternatively, use gun nails when applying to both wood and light gauge steel framing with the appropriate pins or nails.
To finish MgO joints, use any top-quality joint compound. Check with the manufacturer of the product to ensure it is compatible with MgO. Use finely ground hydraulic cement fillers such as RapidSet One Pass to establish industrial strength joints. Additionally, urethanes bond well to MgO panels. If using tape and mud is a preference, choose a self-adhesive fiberglass tape and a mud or plaster suitable for moist environments. Most lightweight pre-mixed mud does not like moisture and MgO Panels can have moisture, but they will eventually equalize with the structure.
MgO Panels bond well to itself, metal, expanded polystyrene, wood, and laminates using ChemLink M1 or another moisture cured urethane adhesive.
1.Strong plywood pallet 2.Strapped with PET rope
3.Protect corner & edges 4.PE film covered on the 6 surfaces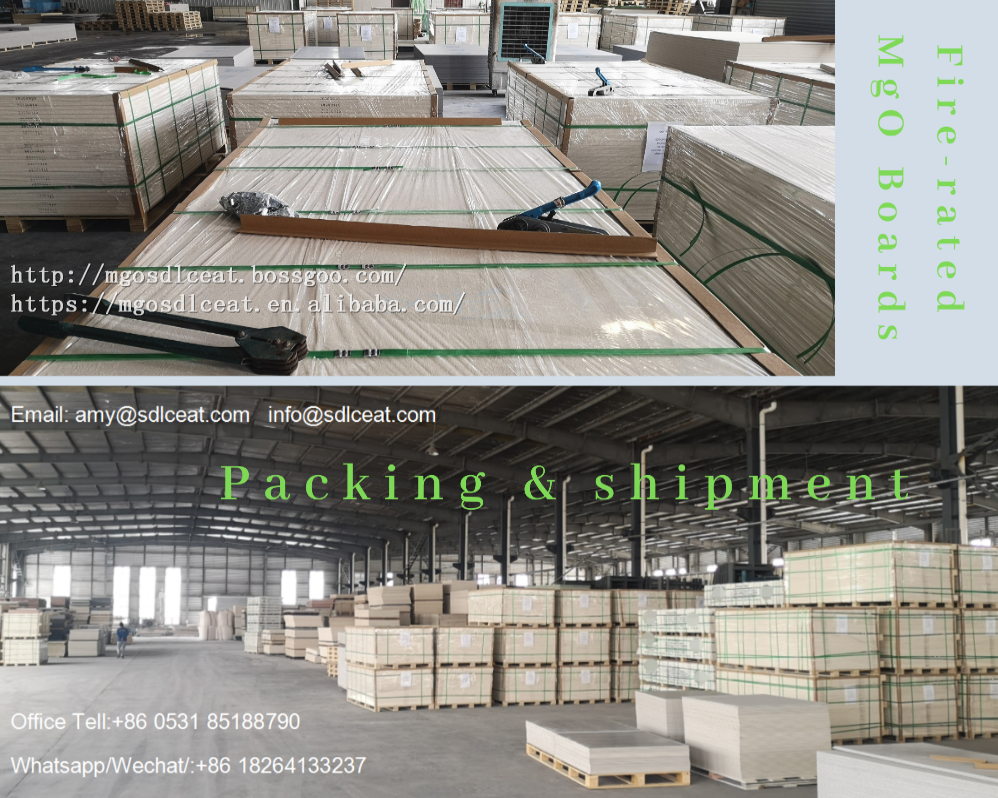 Shandong Lanchuang Economy and Trade Co., Ltd. was founded in 2012. We focus on MgO board business. We are the export agent of China Magnesite & Material Association, and the buying agent of Magnesium Oxide Cement Association(MOCA). We are a member company of Shandong Fairyland Infrastructure Group Co.Ltd.,who has a history of 27 years in real estate development business.
China Magnesite Material Association(CMMA) is a national first-level association approved by the Ministry of Civil Affairs and established under the operational guidance of relevant ministries and commissions.Business Scope: Industry Management, Information Exchange, Business Training, Journal Editor, Professional Exhibition, International Cooperation, Consulting Services etc.CMMA Members are the national magnesia material production enterprises, the products enterprises with magnesia material as raw materials, the related materials production, equipment manufacturing, product circulation, users, scientific research institutes, design units, experts and scholars engaged in magnesite research and development.

Office Tell:+86 0531 85188790 Fax:+86 0531 85188391
Whatsapp/wechat: +86 18754133238(Linjing Zhao) +86 18264133237(Amy Zhang)
Shangdong Lanchuang Economy and Trade Co.,Ltd.
Shandong Lanchuang Economy and Trade Co., Ltd. fue fundada en 2012. Nos enfocamos en el negocio de tableros de MgO. Somos el agente de exportación de la Asociación de Magnesita y Materiales de China y el agente de compras de la Asociación de Cemento de Óxido de Magnesio (MOCA). Somos una empresa miembro de Shandong Fairyland Infrastructure Group.Shandong Fairyland Infrastructure Group Co., Ltd. tiene una trayectoria de 27 años en el negocio de desarrollo inmobiliario.
Economía y comercio Co., Ltd. de Shandong Lanchuang es la empresa directora ejecutiva de la Asociación de Materiales de Magnesita de China (CMMA) .Funciona como plataforma de exportación e intercambio internacional para la industria de la magnesita en China. Fue designado por CMMA como el agente de exportación de nuestros miembros. Economía y comercio Co., Ltd. de Shandong Lanchuang es responsable del intercambio internacional, el atraque de recursos y la exportación de productos para los miembros de CMMA. Nuestros productos para la exportación son nuevos materiales de construcción amigables con el medio ambiente representados por MGO BOARD.
En los últimos años, Shandong Lanchuang ha organizado a nuestros miembros de CMMA para investigar los mercados extranjeros en los EE. UU., Canadá, Australia, Alemania, Suecia y Japón, y se ha conectado con los gobiernos, asociaciones de contrapartes, institutos de investigación y empresas importadoras en estas áreas. En la actualidad, Lanchuang ha establecido buenos contactos económicos y comerciales con EE. UU., Canadá, Australia, Japón y Alemania, y ha exportado los productos a algunas de las regiones mencionadas. Ha acumulado una gran reputación y ha sido ampliamente elogiada por los círculos nacionales e internacionales.
Como empresa miembro de Shandong Fairyland Infrastructure Group., Shandong Lanchuang Economy and Trade Co., Ltd. es la plataforma para la integración de los recursos económicos y comerciales del negocio del Grupo Empresa, desde su fundación, la empresa se ha adherido a la filosofía empresarial de brindar un servicio continuo, de alta calidad e información de calidad a los clientes, y al espíritu de nuestra empresa de sincera compromiso, pragmatismo e innovación.
Nombre de empresa: Shangdong Lanchuang Economy and Trade Co.,Ltd.
Representante: Xiaojing Yang
Producto / Servicio: Tablero de pared exterior de MgO , Tablero de pared interior MgO , Tablero de techo de MgO , Pisos de MgO , Tablero decorativo de MgO , Tablero de MgO
Capital (Million US $): 10,000,000RMB
Año de fundación: 2012
Facturación Annual: Below US$1 Million
Porcentaje de exportación: 91% - 100%
Volumen Total de Compras anual (Millones de dólares EE.UU.): Below US$1 Million
Número de Líneas de Producción: 1
Número de empleados para investigación y desarrollo: 5 -10 People
Número de empleados para control de calidad: 5 -10 People
Servicio del OEM proporcionado: yes
Tamaño de la fábrica (metros cuadrados): 30,000-50,000 square meters
Ubicación de la fábrica: Jiangsu Province,China
Persona de Contacto: Ms. Amy Zhang
Número de Teléfono: +86-0531-85188790